Smart way to manage repair store
Repair Administrator
Best Suit for any kinds of repair stores
Track the progress of repairs, at the same time, allows you to track stock levels from anywhere, anytime.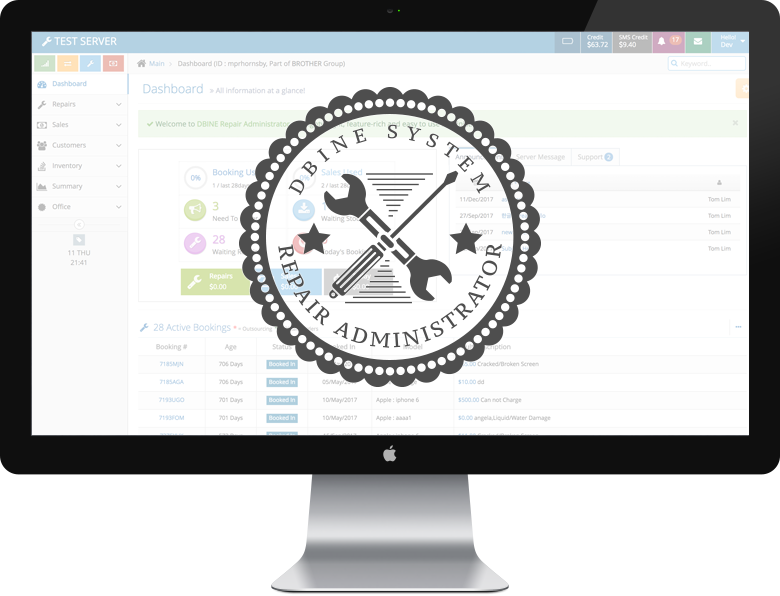 Features
Looking for the management program for your repair store or business?
Repair Administrator will be the best solution for you.
POS SALES
Barcode and QR Code scanning POS system included for your convenience.
iPAD & TABLET MODE
Provides additional access location for booking in and repair updates via iPad or Tablets.
SMS & EMAILS COMMUNICATION
Automated SMS and Emails features can be used to keep prompt communication with your customers.
INVENTORY
Manage stock efficiently and effortlessly with our well developed inventory system. It takes only a few clicks to add purchased products, inspect it and reflect it in the system.
REPORT
Generate any reports you wish. From daily, monthly or annually sales & profits to analysing business performance via tables and visual graphs.
HUMAN RESOURCE
Managing staff is easy using Calendar view. Keeping track of staff login & logout, roster and days off. Each staff member may have individual ID login and multi-level security access.
ONLINE BOOKING
DBINE will provide your business with a booking website, giving your customers the ability to make repair booking online. Customers can select a time to bring in the device and know exactly when they can pick up. Avoiding any delay or waiting time.
OUTSOURCE
If you need to outsource any particular job, Repair Administrator can offer the company you outsource access to the system so that they can view and even edit those jobs.
CORPORATE CLIENT MANAGEMENT
Any successful repair business should have Corporate clients. We provide a platform for you to set up as many corporate accounts as you need. These accounts can be accessed by Corporate clients to see their invoices, repair progress & updates, account balances etc.
Repair Administrator Package
---
Testimonials and Partners
We do our best to satisfy our customers.
Hear from our customers.

I have been very impressed by their professionalism on the first day I met them. They followed me up all the way from confirmation of my order to the installation to the training day. Help is always a phone call away. He and his trained team would be able to solve most my problems (or questions) over the phone but he would also offer to come out to help if the problem cannot be fixed right away.

Their professional yet friendly personalised service has certainly helped them to retain their high market share. More importantly they are up to date with new rules and regulations and made certain that all their software and equipment's have full compliance with the current policies and standards.

If you are after a user friendly, efficient system and you would like to be able to quickly and easily extract data to help make smart business decisions, then DBINE is the option for you.