Bistro Manager

Best suit for hospitality businesses.

Better Experience.

Improve your working efficiency and environment.

Unique and Easy.

UX is simple and easy to use, reduce a number of buttons for operating.

Bistro Manager is all you need!

Maximum functions with reasonable price.
Bistro Manager - All you need for your business
Experience Bistro Manager Today! Feel the differences! Contact Us for futhur inquiries.
About Bistro Manager
Your long search for a suitable POS system should end here!
Dbine has created and powered Bistro Manager, with the intention to lead the way in POS programs & Management Systems for hospitality. We have successfully developed our POS program by collecting and fusing together suggestions and feedbacks from hospitality industry users. But that doesn't stop there. We are still keeping our eyes and ears open for any new innovation and technology that can be implemented to make DBine System even greater. We want to be able to offer our product and service across the globe, starting with local users.
Our POS system include features from user friendly Cash & Card Payment Transaction, Table Positioning, Discount Calculator, Categorised Items, Picture Displays, Savings Drafts, Viewing Rosters to Membership & more.
But what is management system?
Management system provide tools to maintain and improve each area of your business. Increase productivity via important features embedded in the program, such as Human Resource & Inventory management, Promotional Camapaign, Sales & Transactions Report, and many other necessary tools.
So take a ride with us and let us show you what we can do.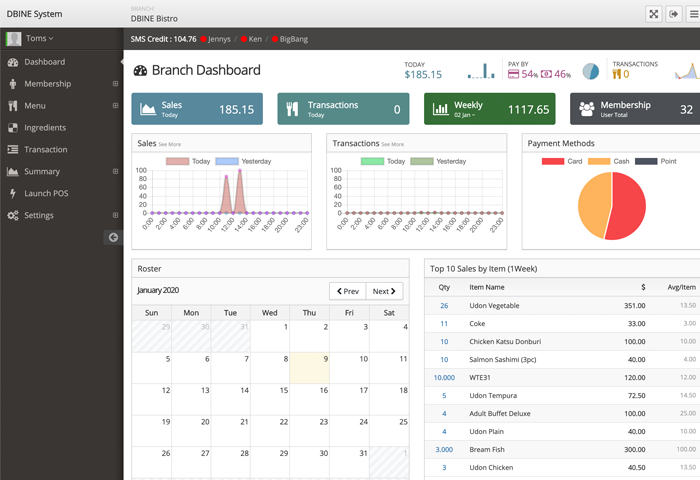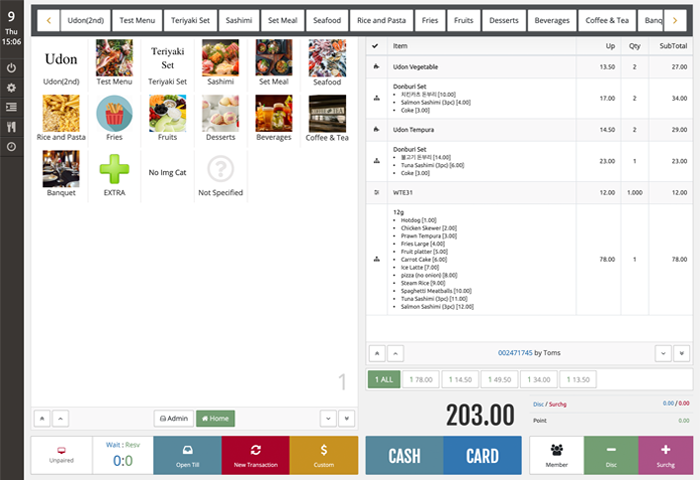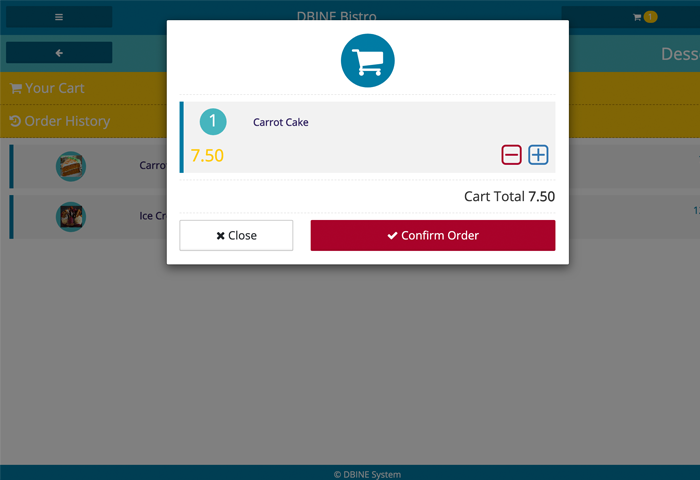 Features
Membership
Log purchases & membership points to keep in touch with customers through marketing tools.
Franchise
Manage cafe or restaurant layout with Table Position option.
Integrated Payment
Operate EFTPOS machines more conveniently. Tyro EFTPOS can be connected to the Bistro Manager to avoid any unexpected errors on the EFTPOS machine. Not to mention lower transaction fees than your current bank.
Table Layout
Manage cafe or restaurant layout with Table Position option.
Report
System provides various smart reports by periods (daily, weekly, annually), and easy to analyse tables & graphs to monitor progress and change.
Online Reservation & Order
Allow customers make a Reservations or Orders through your website.
Preset Time
You can preset promotion sale time for selected dishes on Menu. Or just simply set available serving time for individual dishes.
SMS Invoice
Customers can receive their invoice to their mobile phone via SMS - Save the trees! Allow customers to recall and review their invoice anytime.

Human Resource
Bistro Manager provides a platform for you to manage staff and their schedules, clearly presented on a Calendar. Individual staff access with their own ID and multi level security access.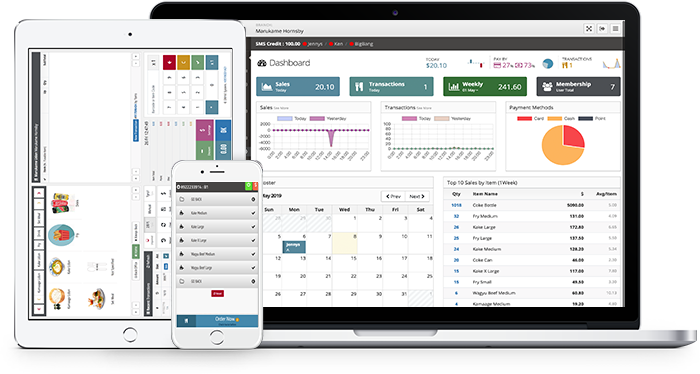 Compatible with multi-devices
Bistro manager is compatible with different operating systems, depending on each purpose can operate using different devices.
Tablets & iPads- Place on each table so customer can access Menu and order on their own.
Mobile Devices - Wait Staff can use to make customer's order or customers can use their own mobile device to Login to restaurant's Menu and order themselves via QR code access.
Display Monitors - Mainly use for Kitchen Monitor, Control Centre or for additional Cashier/Ordering location.
Testimonials and Partners
We do our best to satisfy our customers.
Hear from our customers.

I have been very impressed by their professionalism on the first day I met them. They followed me up all the way from confirmation of my order to the installation to the training day. Help is always a phone call away. He and his trained team would be able to solve most my problems (or questions) over the phone but he would also offer to come out to help if the problem cannot be fixed right away.

Their professional yet friendly personalised service has certainly helped them to retain their high market share. More importantly they are up to date with new rules and regulations and made certain that all their software and equipment's have full compliance with the current policies and standards.

If you are after a user friendly, efficient system and you would like to be able to quickly and easily extract data to help make smart business decisions, then DBINE is the option for you.